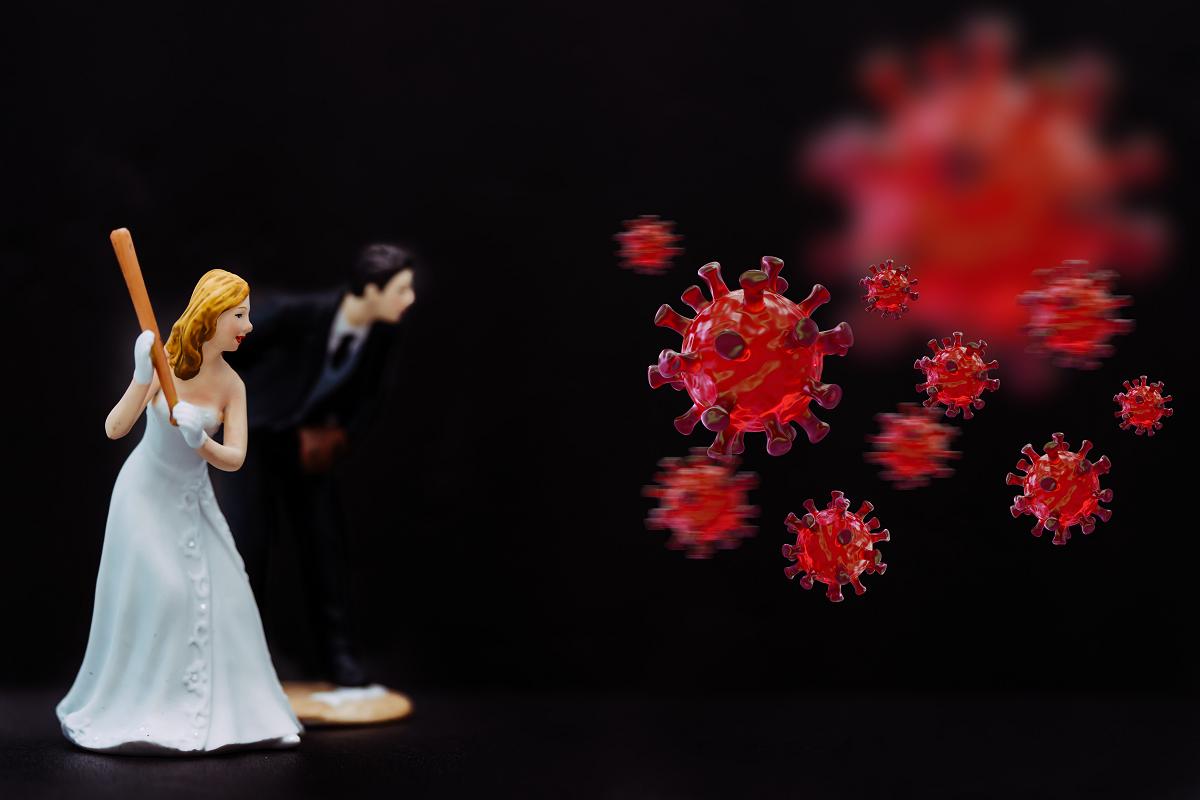 It's still way to early to determine the impact that Covid-19 pandemic will have in our lives. There is still a long way to go before the country returns to normal, which won't be until there is a cure and we get a handle of the long term impact that this pandemic will have. in the meantime we are all navigating thru what will certainly be a new way of doing business and a new way of how we interact with each other. As of this writing it appears that the worst appears to be behind us in terms of infection rates, however, we're still not out of the woods. It seems like social distancing has worked in "flattening the curve" but the best step in eliminating the fear is simply finding a cure which still seems like a far cry in terms of development or improving our chances thru vaccination. What does that mean to us? well, we have a delicate balance between staying healthy while trying to live normal life. How does that translate to your wedding day? How do you maintain social distancing guidelines while still enjoying the company of all those people that are special to you and that you would want present on your wedding day. Parents, friends, family all enjoying your wedding day celebration.

Let's clarify before moving forward with this discussion. As of this writing (03/01/2021) There are no (physical)venues allowing any type of wedding ceremony Churches and hotel ballrooms or any similar venues are currently closed in most of the markets we provide wedding services, additionally, Large crowds still require restrictions so it may be some time before we see some of the suggestions we have actually take place. But, it's better to give it some thought and start planning ahead for what that may look like. We at Devotion Media Weddings like most places are all making plans to figure out how we will be conducting business moving forward. The safety precautions we will be taking in order to be able to provide Wedding Photography and Wedding Videography services for our couples. The vary basics still apply, most of the new procedures will be reviewed with the couple so we can plan for any unforeseen situation beforehand, Maintaining open and very detailed communication with our couples will be a priority in order to make sure that our couples feel comfortable that we will not be an extra source of worry, rather a team who will be trying their best to make sure that we capture the best of their wedding day while making sure that we all stay safe while doing so.  Items that will be reviewed with all couples are basic but with the intent of maintaining everyone safe AND comfortable. 
These are some of the steps we are taking to ensure everyone's safety.
- It goes without saying that once wedding venues resume their normal course of business we intend to follow social distancing guidelines throughout the wedding day until CDC guidelines advise us that we're safe. which for the most part we have done normally. Wear PPE like masks and gloves is a given. special thought has been taken to foresee potential problems that were once normal but are now risky.
For example if the bride wants a Wedding picture or Wedding Video of her dress, her wedding rings and her bouquet, this is historically something that we always film and photograph at each one of our weddings as well as the grooms ring, cuff links and other accessories. these are typically shot earlier in the day before the wedding ceremony begins. Now arrangements will be made with the couple to determine when and where this will take place. It can be filmed and photographed another day (prior or after). Only one person will come in contact with the items that need to be filmed or photographed and they will be wearing protective gear throughout. The final ok will be given by the couple.

- When deciding on a Wedding Video Package or Wedding Photography Package, We will be conducting physical inspection of all venues to determine when and where we will be shooting.

-The size of the venue for example becomes important if you have a small venue with a small dance floor it puts everyone at a higher risk.

-We will request information on how many guests are expected to attend. Of course in terms of guidelines we will be following state and federal
guidelines in terms of size of crowds so we understand that some of these issues are only feasible if the guidelines allow us to do so.

Having said that we have the ability to shoot with bigger zoom lenses from a longer distance so as not to interfere with the event. this is something we have always practiced even prior to the pandemic. so their are technical changes which we can use to help us adapt.

Those seem to be the biggest obstacles so far. Because the pandemic is STILL impacting us today, the situation is very fluid and uncertain and changes almost daily. We understand that "normal" does not mean soon and we're certain that we will have better more organized guidelines to help us navigate thru your wedding day in the future. Of course we at Devotion Media Weddings always welcome suggestions as I'm sure there are things I might have missed as I have been quarantined for the past six weeks, sitting in my living room at two o'clock in the morning. Stay safe, stay healthy and remember:
Love has not been cancelled! Wait just a little bit more for our weddings.
Devotion Media weddings is working with our brides in helping them throughout these difficult times. We are offering discounts and payment plans on all of our wedding packages. Call us at 1(800)988-3092 or check for details.

To send us a quick note Click here
For details on our Wedding Video Packages Click Here
For details on our Wedding Photography Packages Click Here

Kind regards,
Rich
Devotion Media Weddings.
For Nearly 20 Years, Devotion Media Weddings has helped Couples connect with one another and give voice to their feelings visually. We specialize in Wedding Photography and Wedding Cinematography, We are an independently owned studio catering to a distinct clientele based out of Miami, New York and London. We are a small team of creative professionals, our style consistently explores our artistic background in film and Photography. As visual artists we create an imprint of your memories, we pride ourselves in creating a film or an image that will accurately reflect visual memories and lasting emotions.