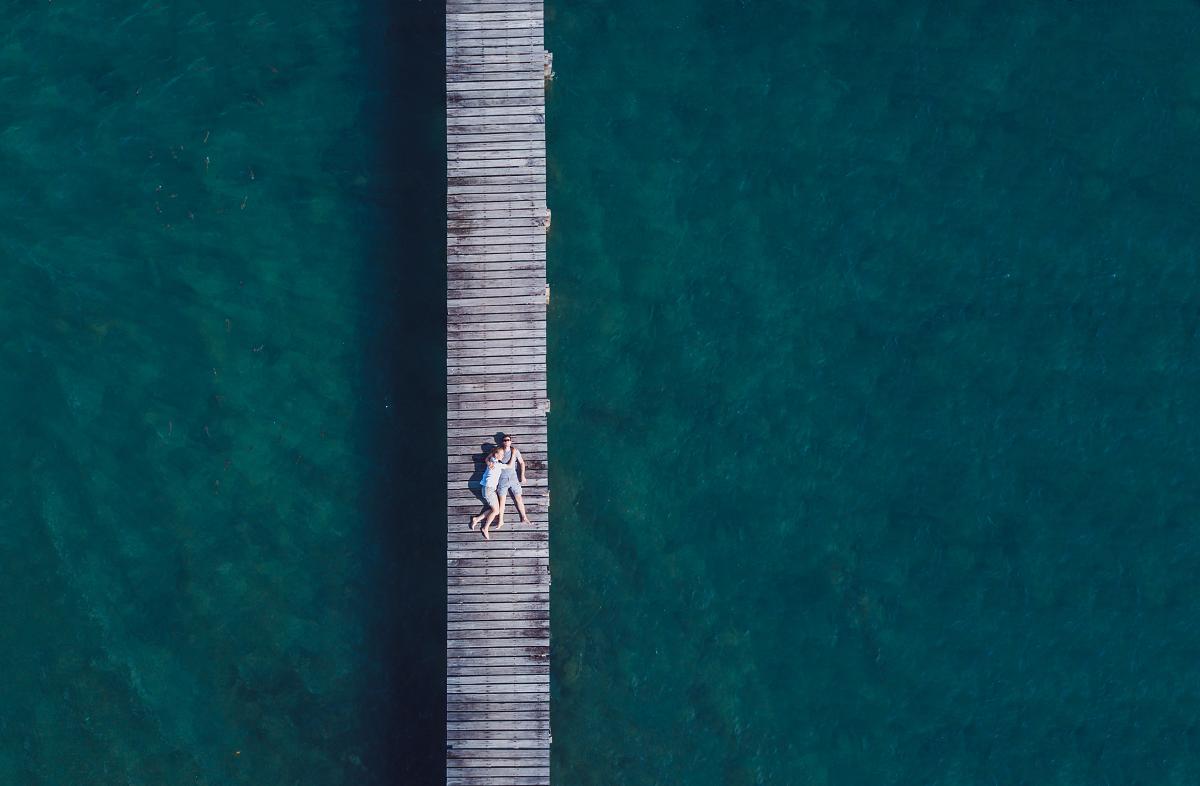 We get this question asked all the time and when there's a budget to consider I know our couples are always looking at ways to accommodate their budget to what they want on their wedding day. Our recommendation is showing them what options they have and how their finished product will look. Of course, there are some shots that you can only achieve with the use of drones for great aerial photography and aerial wedding film shots, the use of drones has steadily become a standard staple in our wedding features. It certainly enhances the look and feel of the wedding Film and you can get some amazing wedding photography that would be impossible to achieve from the ground. We usually recommend this feature because it helps to tell your story by adding a very different point of view than the standard ground shots, the extra cost for this is simply because you need an extra person for the day that is responsible for getting the shots required for the project. Photo or film, it's like having another photographer/videographer onset for the project. In the long run having a drone for your wedding video provides some great, quality footage which in the end means that your wedding video is going to look that much better, Drone shots, if shot well add a more cinematic touch to the video, it's great for establishing shots (Wedding ceremony or wedding venue). Most of our best wedding videos are usually enhanced because of the drone shots we were able to get during the wedding. Small warning though, make sure that the places where you want footage shot are ok with filming with a drone. Many places have restrictions and some of them might not be possible because they might be in a restricted area (I.E. there are huge restrictions near airports -usually a five mile radius) The FAA has been working to improve access to some areas by limiting the height where a drone can travel, but overall, it's worth the effort. The shots that the drone provide in a wedding environment is incredible.
For more information and to take a look at some samples feel free to visit us at www.devotionmediaweddings.com
For Nearly 20 Years, Devotion Media Weddings has helped Couples connect with one another and give voice to their feelings visually.
We are a small team of creative professionals, our style consistently explores our artistic background in film and Photography. As visual artists we create an imprint of your memories, we pride ourselves in creating a film or an image that will accurately reflect
visual memories and lasting emotions.
Devotion Media Weddings has base in New York, Miami and London and are available to travel Worldwide. We specialize in Wedding Photography and Wedding Cinematography, For more info, visit us at: www.devotionmediaweddings.com
#droneweddingvideo, #droneweddingmiami, #droneweddingvideomiami, #droneweddingphotography, #droneweddingphotographymiami, #droneweddingvideonewyork, #droneweddingphotographynewyork, #Devotionmediaweddings, #Weddingphotography, #Weddingvideo, #WeddingFilm,#Weddingvideography, #WeddingCinematography, #LuxuryWedding,#Luxuryweddingphotography, #LuxuryWeddingVideo, #LuxuryWeddingFilm,
#LuxuryWeddingVideography, #Luxuryweddingcinematography,
#BestWeddingphotography, #BestWeddingvideo, #BestWeddingFilm,
#BestWeddingvideography, #BestWeddingCinematography,
#BestLuxuryWedding, #BestLuxuryweddingphotography,
#BestLuxuryWeddingVideo, #BestLuxuryWeddingFilm,#BestLuxuryWeddingVideography, #BestLuxuryweddingcinematography,
#MiamiWedding, #MiamiweddingVideo, #MiamiWeddingFilm,
#Miamiweddingphotography, #MiamiWeddingVideography,
#Miamiweddingcinematography, #MiamiLuxuryWedding,
#MiamiLuxuryweddingphotography, #MiamiLuxuryWeddingVideo,
#MiamiLuxuryWeddingFilm, #MiamiLuxuryWeddingVideography,
#MiamiLuxuryweddingcinematography, #BestMiamiWedding,
#BestMiamiweddingphotography, #BestMiamiweddingvideo,
#BestMiamiWeddingvideography, #BestMiamiweddingcinematography,
#BestMiamiLuxuryWedding, #BestMiamiLuxuryweddingphotography,
#BestMiamiLuxuryWeddingVideo, #BestMiamiLuxuryWeddingFilm,
#BestMiamiLuxuryWeddingVideography, #BestMiamiLuxuryweddingcinematography, #DestinationWedding,
#DestinationWeddingVideo, #DestinationWeddingfilm,
#DestinationWeddingPhotography,
#DestinationWeddingVideography, #DestinationWeddingCinematography,
#Destinationluxurywedding, #DestinationLuxuryWeddingVideo,
#DestinationLuxuryWeddingfilm, #DestinationLuxuryWeddingPhotography,
#DestinationLuxuryWeddingVideography, #DestinationLuxuryWeddingCinematography,
#BestDestinationWedding #BestDestinationWeddingVideo,
#BestDestinationWeddingfilm, #BestDestinationWeddingPhotography,
#BestDestinationWeddingVideography, #BestDestinationWeddingCinematography,
#BestDestinationluxurywedding, #BestDestinationLuxuryWeddingVideo,
#BestDestinationLuxuryWeddingfilm,
#BestDestinationLuxuryWeddingPhotography,
#BestDestinationLuxuryWeddingVideography,
#BestDestinationLuxuryWeddingCinematography,

Our equipment of choice: #Canonusa
Shot with #Canon1D and #Canon5D
#Canon70-200, #Canon17-40 4.0, #Canon100MMMacro #Canon50MM #rodemics, #manfrotto
For more info, visit us at: www.devotionmediaweddings.com