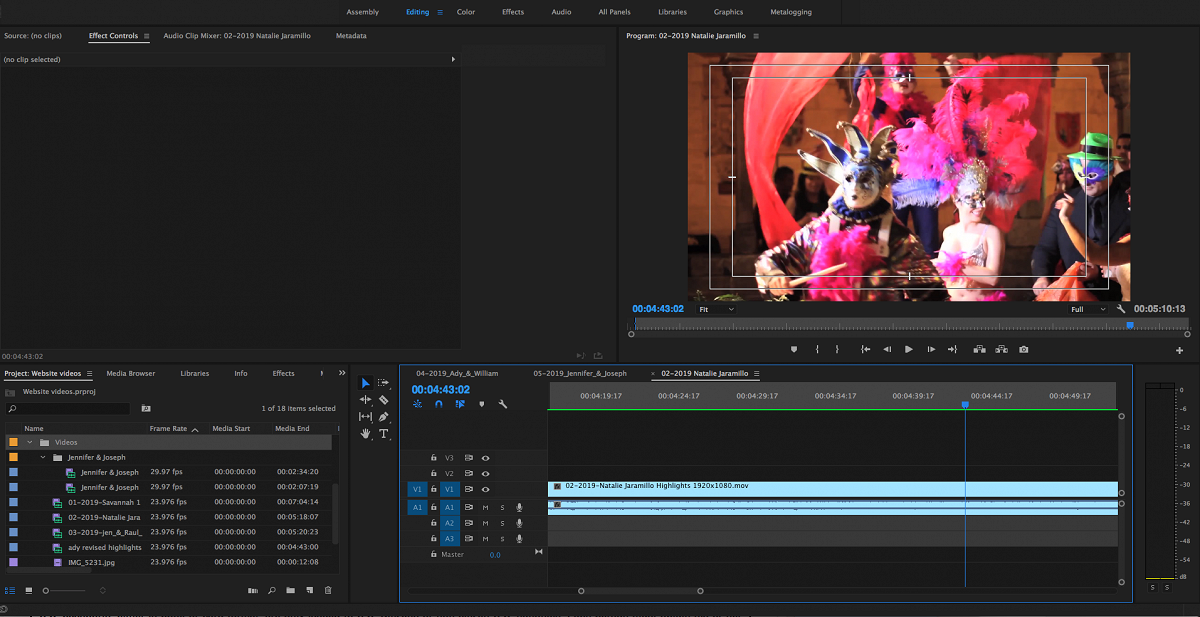 So the party is done and everyone is at home hopefully recovering from what probably was an incredible wedding, friends and family near and far are heading back home and guess what,
We're just getting started!! We often get asked during first meets with our couples what is included in the cost of our Wedding Video or Wedding Photography projects, but what's often NOT seen and sometimes not understood is that the biggest part of our wedding projects (with both our Wedding Photography and our Wedding Films) usually happens after the party is over. After the Wedding, we go into our "Post-production"  mode. For our team, Post-production Is the longest part of the process,
For our photographers it means:
-Downloading all the images which are usually in the hundreds for any particular event.
- Importing each image into our software.
- Backing up all of the images in a secure location (just in case s*** happens) and securing the footage. 
-Once that's done we move on to reviewing and "culling" the images so that only the good ones make it thru, No worries on losing any good images though, what we "cull" are usually the ones where "uncle Joe" had his eyes closed for the group pic, blurry images or any other major defect that might disqualify a picture.
-Once the "culling" is complete we start the process of retouching our images, setting up a gallery for each customer, uploading the images so the customer can choose their favorites, do a second review and retouch each selected image that will make it to the Wedding Album. Design the wedding album layout, meet with the couple to discuss album options, size finish, print quality, etc.  This process if done correctly will take a few weeks, the final delivery will be a few more to get the album and digital proofs delivered. I know, it sounds daunting. But this is what we do and the way we see it is we're investing in creating your memories.

You chose a Wedding Film also! That's terrific, the first steps in our post-production are similar,
We download, back-up and secure our wedding video footage, import the footage into our software and prepare it for editing, on average 8-10 hours of footage (per camera) have to be condensed into about a 1-hour project, this project takes weeks and it's no different than post-production on a documentary film, it's multiple cameras, several sound sources from different microphones, syncing and reviewing them all together and start the editing process, choosing the right mood for the film music, titles etc. Now all this seems mechanical, but it's not, this is just the process, the beauty of it is HOW we do it, it's the difference between us and them (not sure who I'm referring to here but it's adequate). It's storytelling, it's the culmination of creative artists telling a beautiful story, a love story if you will, YOUR love story.
We soooo deeply believe this, this is the CORE of our company is storytelling, significant moments, images and song combined to capture THAT special moment. And THAT is included in all of our packages. :) Hope you enjoy.
Devotion Media weddings specializes in Wedding Cinematography and Wedding Photography with Base in Miami, Florida, New York and London.

You can also contact us at 1(800)988-3092
Devotion Media Weddings has base in New York, Miami and London and are available to travel Worldwide. We specialize in Wedding Cinematography and wedding Photography,For more info, visit us at: www.devotionmediaweddings.com

#droneweddingvideo, #droneweddingmiami, #droneweddingvideomiami, #droneweddingphotography, #droneweddingphotographymiami, #droneweddingvideonewyork, #droneweddingphotographynewyork, #Devotionmediaweddings, #Weddingphotography, #Weddingvideo, #WeddingFilm,#Weddingvideography, #WeddingCinematography, #LuxuryWedding,#Luxuryweddingphotography, #LuxuryWeddingVideo, #LuxuryWeddingFilm,
#LuxuryWeddingVideography, #Luxuryweddingcinematography,
#BestWeddingphotography, #BestWeddingvideo, #BestWeddingFilm,
#BestWeddingvideography, #BestWeddingCinematography,
#BestLuxuryWedding, #BestLuxuryweddingphotography,
#BestLuxuryWeddingVideo, #BestLuxuryWeddingFilm,#BestLuxuryWeddingVideography, #BestLuxuryweddingcinematography,
#MiamiWedding, #MiamiweddingVideo, #MiamiWeddingFilm,
#Miamiweddingphotography, #MiamiWeddingVideography,
#Miamiweddingcinematography, #MiamiLuxuryWedding,
#MiamiLuxuryweddingphotography, #MiamiLuxuryWeddingVideo,
#MiamiLuxuryWeddingFilm, #MiamiLuxuryWeddingVideography,
#MiamiLuxuryweddingcinematography, #BestMiamiWedding,
#BestMiamiweddingphotography, #BestMiamiweddingvideo,
#BestMiamiWeddingvideography, #BestMiamiweddingcinematography,
#BestMiamiLuxuryWedding, #BestMiamiLuxuryweddingphotography,
#BestMiamiLuxuryWeddingVideo, #BestMiamiLuxuryWeddingFilm,
#BestMiamiLuxuryWeddingVideography, #BestMiamiLuxuryweddingcinematography, #DestinationWedding,
#DestinationWeddingVideo, #DestinationWeddingfilm,
#DestinationWeddingPhotography,
#DestinationWeddingVideography, #DestinationWeddingCinematography,
#Destinationluxurywedding, #DestinationLuxuryWeddingVideo,
#DestinationLuxuryWeddingfilm, #DestinationLuxuryWeddingPhotography,
#DestinationLuxuryWeddingVideography, #DestinationLuxuryWeddingCinematography,
#BestDestinationWedding #BestDestinationWeddingVideo,
#BestDestinationWeddingfilm, #BestDestinationWeddingPhotography,
#BestDestinationWeddingVideography, #BestDestinationWeddingCinematography,
#BestDestinationluxurywedding, #BestDestinationLuxuryWeddingVideo,
#BestDestinationLuxuryWeddingfilm,
#BestDestinationLuxuryWeddingPhotography,
#BestDestinationLuxuryWeddingVideography,
#BestDestinationLuxuryWeddingCinematography,

Our equipment of choice: #Canonusa
Shot with #Canon1D and #CanonR5
#Canon70-200, #Canon17-40, #Canon100MMMacro #Canon50MM #rodemics, #manfrotto
for our post-production our equipment of choice:#apple, #applecomputers, #lacie,  #lacieharddrives #Sonytv, #adobecreativecloud, #adobepremierepro, #adobephotoshop, #adobelightroom, #adobeaftereffects

For more info, visit us at: www.devotionmediaweddings.com